Building a Pinball Cabinet
Step 2: Assembling the Cabinet
Quick Nav: Intro - Research - Cutting Wood - Assembling - Wiring - Done

Planning

The first thing I did was draw out a plan to make sure I could build the cabinet out of a single piece of 4x8 plywood. I had an old piece of 3/4 inch plywood in the garage that had been cut in half (so, two 4x4 sheets). You can see the official dimensions of a pinball machine here. I want my machine to look normal. However, I will be building a custom cabinet because of the size of my playfield monitor and I want it to fit on a 4x4 sheet of plywood. So, the maximum depth of my cabinet will be 48 inches (about 5 inches short of official). As long as I don't set it next to a real pinball machine, it should look fine.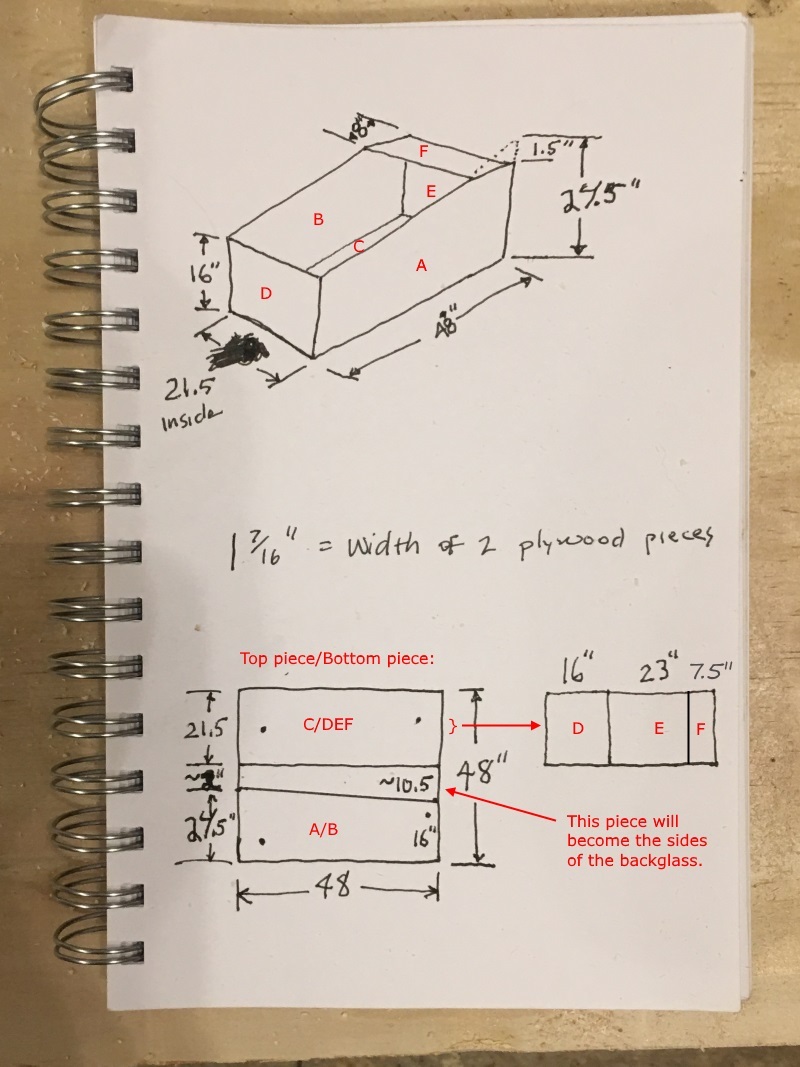 I drew up some simple plans and calculated the lengths of all the sides. I planned for a 10° slope in the case, but will be placing the monitor at more like 6-8°. A real pinball table usually has about a 6.5° slope. This should add a little depth to the playfield. I will eventually be covering the playfield monitor with Lexan and securing the Lexan with side rails.

I really wish I had all the wood working equipment this guy has, but I don't. I only have the following:


I also have a yard stick, hammer, screwdriver, and other small tools. What I don't have is any real experience woodworking. I don't know anything about woodworking biscuits and any of that other advanced stuff. So, why tell my story? Well, I'm betting that if you're reading this, you're probably in my same boat wondering if you can do this yourself. If you follow my journey, I guarantee you won't have the best looking cabinet ever built, but you won't have the worst either! My target is to get as close to that $5000 cabinet as I can get for $550.

Let's see if we can make this work!



News



CodeLab 6.8 Released (January 22, 2023)

This latest release of CodeLab for Paint.NET includes the ability to edit shape files, TXT files, and write file type plugins. It also features the Roslyn C# compiler.

More... Double-Six Dominoes 3.1 (May 10, 2021)

This long-awaited refresh of the most popular dominoes game on Download.com is now available!

More... HTML Editor 1.5 Released (March 31, 2016)

This latest release is a complete rewrite adding a wysiwyg editor mode and a much improved UI.

More...